Gryphon House may not be a familiar name, but you probably have heard of some of their products.  I was lucky enough to receive Global Art by MaryAnn Kohl for the purpose of this review.   In case you haven't heard of this author before, MaryAnn Kohl is known for the quality of her children's art books and this one is no exception.
This book has about 150 pages of art projects in it that are broken down into chapters (7 chapters total) based on the continents that the projects originate from…even Antarctica has 8 listed.   For example, chapter 4 is for projects that originate from Europe and includes ideas for 20 different countries.  Of course several of the more "well-known" countries are represented by multiple projects (eg. there are 4 listed for England).  I was a bit surprised by how few projects are mentioned for Middle Eastern countries since Islamic art has a rather rich tradition.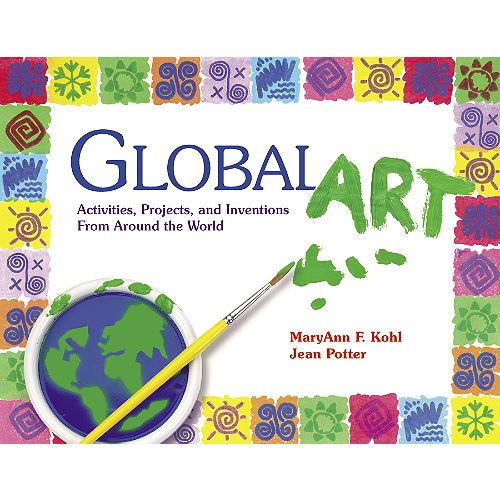 There is also a rating system for each of the projects for both the artist experience level recommended and the amount of planning and preparation needed for each.  After looking through the book and attempting several projects I would say that I mostly agree with rating system.  Although the book does not explicitly state an age for each project, my 4 year old son was able to complete the one star/beginning level projects with some help from me while my daughter who is 6 years old could mostly complete those projects on her own while requiring help for the level 2 projects.  At times the planning and preparation ratings were not quite what I would have expected (I don't keep wet sand or matte board around our house), but overall they do provide some general guidance as to which projects will require advance planning and purchases and which can probably be completed with what you already have on hand.
My daughter is an art fanatic and I feel like I can never keep up with her need to create.  Unfortunately, I am not the most artistic mother and so I need explicit directions and ideas when it comes to art time.  I found the instructions in the book to be easy to follow and, for the most part, my daughter was able to follow them by herself (level 1 projects).  We also enjoyed the range of activities in the book.  Aside from painting there were also drawing, collage, sculpture, printing, and construction (eg. mobiles, necklaces) projects.  The indexes in the back of the book also list the projects based on the art medium, the experience level suggested, the preparation each project requires, a general index, and by country and continent.
I love when art can be combined with other studies and this book just fits so perfectly into our history and geography studies.  For example, we are currently talking about China and Japan in our history studies and I was able to flip to the Asia chapter and look for some projects for us to complete.  One of my daughter's favorites was when we created a Moribana Flower Scenery (p. 66); we went out on a nature walk and collected some flowers, grass, and twigs and then arranged those into a shallow baking dish to create a little woodland scenery.  For anyone looking to supplement a world geography curriculum this book would be an excellent addition to your home library.
Although there is no explicit age range stated I would say that children from preK up to the middle school years will find something that is doable and interesting.
Price: $16.95