Greene Bark Press is a (new to me) family company, established in 1991, that is based in Pennsylvania.  According to their website they only publish books that they feel are "original, colorful, imaginative, and have some value to add to the growth and learning process of young readers."  I was able to review one of their newer books entitled Look Left, Look Right, Look Left Again, authored by Ginger Pate.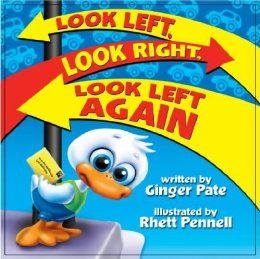 This board book is aimed at ages 3-8 and is all about teaching children the appropriate way to cross the street so that they don't get hurt.  At 22 pages of large text, this is a quick and easy read that only takes a few minutes to get through.
The story centers around a young duckling named Wally Waddlewater.  He really wants to go into town to mail a card that he's just made for his grandmother, but he is nearly run over when he tries to cross the street.  Luckily, his mother pulls him to safety and then begins to teach him the "look left, look right, then look left again" mantra.  After practicing many times with his mother he is eventually allowed to cross the road by himself, at the end of the book, to visit his grandmother.
When this book first arrived my son (3 years old) was immediately drawn to the bright colors.  He asked me to read the book several times to him in the first week that we had it.  I really liked the premise to the story…our young duck really wants to do something nice for his grandmother at the beginning of the story and then he is off to spend time with her at the end of the story.  And, I liked the repetition of the mantra throughout the story, including having to wait for emergency vehicles, cars, buses, and the crosswalk signal.  But, I wasn't enamored with the cartoonish look of the book and the unusual scenario of having to wait for an elephant to cross the road seemed odd.
While my son asked for the book several times in the first week he essentially ignored the book after that.  Although he already knows how to responsibly cross the street I was surprised that he never once repeated the mantra from the book.  Perhaps he would have been more intrigued with it had he been younger; I am a bit surprised that the recommended age range was so high (ages 2-5 seems more appropriate to me).
Overall, though, I think that this book would be a worthwhile read for anyone that has children that have not learned how to cross a road safely or just need the lesson reinforced.
Price: $8.50