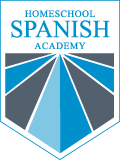 Homeschool Spanish Academy (HSA) is an online Spanish curriculum that is delivered by native Spanish speakers in Guatemala via Skype (an internet-based, free video chat program).  I was first introduced to this company last year when I had a chance to review them for the first time, and I was thrilled to have the chance to review them again.
There are several different tiers of instruction, geared towards teaching children from age 5 up to adults, but since my daughter is 6 years old, the focus of this review is on their Early Language Program.   The classes for this age group are 25-30 minutes in length which was just right for my daughter.  This program covers the same topics that most Spanish language programs focus on: food vocabulary, colors, numbers, clothes, etc (see here for the list of topics).  However, what makes this program unique is that while your child is learning they are receiving instant feedback from a native speaker, leading to better pronunciation and greater confidence in my experience.
After registering with HSA you are then able to schedule your classes with any tutor that you choose under their "schedule" portion after logging in to the member section.  I would certainly recommend scheduling out most of your classes in advance if you have a particular time slot that you would prefer as the classes fill up quickly.  HSA recommends trying out 2-3 different tutors (read the short bios and take your pick) in the beginning to see which your child prefers.  Our family has been super happy with Rosa – she is patient, kind, and seems to genuinely care about my daughter.
It is expected that you will be logged on and connected to Skype at least 10 minutes before your scheduled class time.  At times the full 10 minutes were necessary because Skype sends out random updates that take about that long to download and install.  Our sessions have always begun and ended promptly.  It was rare to have any issues with Skype, and all of the problems that we had were remedied by reconnecting.
The HSA website promises a tailored learning experience and we were certainly able to customize my daughter's learning activities.  For example, at one point, my daughter was getting bored just doing the curriculum.  When I mentioned this to Rosa she started playing games with her.  Now, the first 10 minutes of the session is spent working on the curriculum exercises and the last 20 minutes are spent playing guessing games, drawing, or talking about some of her toys.
Since the last review their website has been significantly upgraded, although it appears that the reports and feedback sections may not be working yet.  However, it is much easier to schedule/reschedule sessions, check your schedule, and see the homework assignments.  And, all of the times are now given in your selected time zone, whereas previously it was only given in mountain time.
Overall, this is a fabulous program that our family has been very pleased with and we will continue to use for quite some time.
Price: Half semester (7 weeks) with 1 class per week is $59.99, but there are a range of pricing options