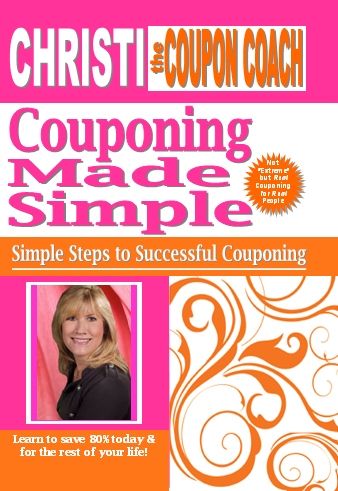 I recently received an ebook from Christi the Coupon Coach entitled Couponing Made Simple.  This ebook (also available as a physical book) is a super quick read as it is only 64 pages long.  Still, there are 10 chapters that cover the couponing mindset, how to set up your organizational system, tips and tools, and some more.
A little bit of background on my family situation: I have a household of 4 people (2 adults and 2 younger children), 1 dog, and some fish.  My children are a bit odd in that they do not like meals with ground beef in them and my husband does not like pasta.  None of us eat cereal or drink coffee in the morning and I am also trying to buy at least 80% organic food.  Most meals that I prepare are made from scratch and they only processed foods that we tend to buy are things like granola bars and goldfish crackers.  In addition, I do not buy any paper towels or napkins.  I have been couponing for a few years now, but in a casual manner.
And now on to the book!
The first chapter gives a few success stories, mainly from the author.  She details two of her shopping trips where she was able to save a significant percentage on her purchases and, of course, we would all like to be able to do the same.  Taking a closer look at the included pictures you can see that the purchases included things like spaghetti sauce, pickles, cleaning solutions, notebooks, and first aid items.  I have to say that although I was excited about saving more money I was disappointed to find nothing in those pictures that I regularly buy.
It's in the next chapter where I think that most people get tripped up.  When you are really trying to save a significant amount of money by using coupons then you must realize that the way you shop has to change.  You can no longer shop for just the items that you need for the week, but you have to shop for only those items that are on sale.  So, if spaghetti sauce is discounted this week, then you wouldn't buy just 1 jar for that week, but several jars that will last you until the next spaghetti sauce sale.  In addition, you cannot be overly brand-loyal or else you will need a place to stockpile your purchases until your favorite brand next goes on sale again.  For me this chapter is the hardest one.  I don't really like to menu plan and sometimes I struggle to come up with a plan for just a week.  I feel like if I were to really take advantage of couponing that I would need to have a reasonable monthly plan for what we were going to eat and then choose meals each week based on what is on sale.
Chapter 3 is all about some key terms that you will run across when looking at couponing sites.  Don't know what a blinkie or a peelie is?  Chapter 3 discusses these terms and a few more.  One term that I stumbled across in my searches that wasn't covered was "catalina."  So while this is not an exhaustive list of terms, it certainly helps you to decipher the (sometimes) cryptic couponing websites.
Chapter 4 addresses organizational systems for coupons and I really had to think about how I wanted to set up mine.  I personally do not like taking a bunch of coupons with me whenever I shop, so I prefer a small accordion coupon organizer for shopping trips.  I also do not like clipping a bunch of coupons that I may never use.  From reading the ebook I found that I really liked the idea of filing the whole inserts based on date into a hanging file folder.  Then when I see a good match up on my couponing websites I can just check the date of the insert, pull out that folder from my hanging file, and thumb through until I find the relevant coupon to clip.  This one tip alone has saved me quite a bit of time.
Chapter 5 runs down the step-by-step process from buying newspapers to heading out to the stores to bringing your items home.  One tip that I had never thought of is that you should buy the Sunday newspaper in multiples of two in order to capitalize on buy one, get one (BOGO) deals.  The book goes even further to recommend that you buy at least one paper per person in your household.  This is also the chapter where there is a list of helpful internet search terms to find sites that give coupon matchups for your geographical area, the stores you shop, and the products that you use.
Chapter 6 lists a few more tips and tools to use, but it is rather light in content.   Chapters 7-10 cover the ethics of couponing and some other ideas for saving money.  There was little in these chapters that was new for me and probably for most people they can be skipped.
How was it in practice?
I didn't have too much time to implement my modified system since we were on vacation in the UK for several weeks.  Unfortunately, when you don't get newspaper inserts for several weekends it really puts a damper on subsequent couponing.  My best shopping trip only boasted a ~35% savings, but that is because I do not go on sale-only shopping trips.
I did find a few good tips in the ebook though that I will continue to use, such as getting two Sunday newspapers (4 papers as the ebook recommended is just too much for my family) and filing inserts by the date.  I have even been looking around for a website that details organic food matchup, but I haven't found one that I love yet.
I also really wish she had talked more about what to do when first getting started.  Obviously, I cannot walk out of the grocery store with a bunch of bananas, yogurt, and bread that was on sale and think that I was done for the week.  When you first begin to use coupons you need to strike a balance between loading up on sale items and still buying those food stuffs that you need to make it through the week.
I felt like chapters 3-6 can easily be beefed up a bit.  I wish the ebook had addressed things like shopping clubs (eg. Sam's, Costco), online retailers (sometimes Amazon cannot be beat if you use Subscribe and Save), and how to organize/remember all of those deals that are floating about on coupon apps.
Overall, I think that if you are new to couponing then this ebook will give you a basic introduction to the world of couponing.  However, if you have already started a bit or are a veteran couponer then you may be disappointed with the content.
Price: Kindle ebook is $4.99 and the paperback version is available for $18