Adventus is a company that was founded in 1996 to bring innovation and enjoyment to music education.  As a company they have been reading the research reports between music reading and playing with increased test scores in math, science, and reading.  Their  MusIQ Homeschool program is an "award-winning (from PC magazine, International Society for Technology and Education, and others), multi-level music and piano curriculum" that was created for delivery at home to students aged 4 years old to adult.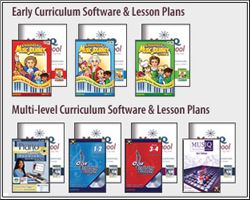 There are 20+ different levels within this program and a varitey of software series that will take your child from beginner to an advanced intermediate student. The program can be downloaded and used on a monthly subscription basis (what I received for this review) or you can purchase the curriculum outright that will be mailed to you on a CD-ROM.  In addition, you will need a MIDI keyboard that can be connected to a computer.
Even though my daughter has some experience reading notes and locating them on a keyboard I decided to start her off in the first level of the program: Children's Music Journey 1.  I am so glad that I made that decision because this program has a much different way of approaching music and piano instruction than any other that I am familiar with.  I already had an 88-key Yamaha piano and was delighted to find a MIDI connection in the back; MIDI to USB connectors can be found easily and cost only a few dollars.  We ended up using my laptop since we could balance it on one side of the piano while my daughter was using the program.
Downloading the software was simple and  the set up was not particularly difficult, but it wasn't a breeze either.  It seems that there is a known issue with some computers not being able to display the program in a wide view format, causing the mouse to not function properly when the software program was open.  After a few mouse clicks I was able to change the settings so that the program opened in its own (smaller) window.  Then, the mouse worked like it should again.  You also need to be aware that your keyboard must be turned on and plugged in before opening the software or else the program will not recognize the input.  A few times I had to restart my laptop for the program to work, but I'm not entirely sure why that was needed, and once I had to call tech support to resolve an issue (Wednesday evening at 7:30 pm – someone answered and was so incredibly kind and helpful).
The program itself is enormous in its scope and there is no way that a text description could do it justice (I highly recommend that you watch the several YouTube videos that are available so that you may get a better overall feeling for the curriculum).  After starting the program your child logs in and is taken to the main menu screen.  At this point there are several options: watch a new lesson, practice material learned in the lesson, go to the game area where several different games reinforce key concepts, head to the library to listen to past songs, go to the improvisation room where the student can make up their own songs, or access the settings menu.
Before and after each new lesson and practice session, different clips of classical music are played and identified for the user.  Also, each new lesson is presented by a famous musician (rotated every few lessons) that also gives some background information about their life and work.  Thus far, we have made it through 10 lessons and have had lessons presented by Bach, Beethoven, and Joplin.  This has certainly been a super simple way to weave in music appreciation to our homeschool studies.
The first two weeks we simply moved along in the program doing 15-20 minutes at a time.  Generally, this allowed my daughter to complete a new lesson and practice session in one day and then the next day she would review any bits from the previous day (if needed) before heading to the game room, followed by the improvisation area.  This meant that each level was taking 2-3 days to complete per week.
I then decided to use the Homeschool Guide (sold separately) which contains suggested music sessions.  Generally, each session is comprised of an introductory activity, software time that lists the order in which to use each portion of the program, a few more suggested activities, back to the computer for improvisation time, and then a closing activity (eg. coloring sheet, maze).  I really liked having a schedule to follow because that is just the type of person that I am; I wanted to make sure that we were doing everything that the program offered and it was easy enough to follow that my daughter could read the schedule in the software and follow it herself.  If you follow the session as listed, then you will need to set aside approximately 45-60 minutes.
Unfortunately, there were times that the Homeschool Guide was a bit confusing to follow.  There were several instances when a particular game to play was mentioned, but when we got to the game room we realized that the game was not available.   There was also a suggestion to read the composer's biographies, but they were not loacted in the guide.  Same thing with session 10 – we were supposed to use some finger number exercises and they were not in the guide.  I think this is mainly an editing issue and that these errors will hopefully be ttheaken care of, so that all of the box-checking parents out there (myself included) may rest easy. 🙂  I also wished that the current level number was displayed on the main screen of the program, as my daughter and I had to go into the system tools several times to double check that we were about to begin the lesson for the correct level.
The main thing that I loved about MusIQ Homeschool was the instant feedback that is afforded by this program.  It can tell if your child is playing the correct note and it can tell if your child is playing the correct rhythm. This was crucial for my daughter to practice the skills that she needed. In the past when I have told her that she had played a song where the rythm wasn't quite right she would try to argue with me and tell me that she had played it fine. Now, with MusIQ, the program tells her that she needs to try again and that things weren't quite right and she doesn't try to argue with it and she actually continues to practice until she has it right. Amazing!
Overall, this is an all-encompassing music program that manages to combine music instruction, theory, and appreciation into a fun package that my daughter enjoyed using and still wants to use after several weeks have gone by.
Price: monthly subscription is $10.55/month
Please also visit the MusIQ blog where you can access additional materials, including the scope and sequence for Children's Music Journey.