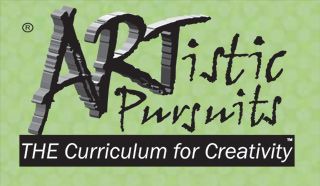 Artistic Pursuits is a comprehensive art program that has been around since 1999.  There are several different levels in this program, including three different K-3 programs.  I was fortunate enough to receive a copy of the K-3 Book 3 for the purpose of this review, and it covers artists from Impressionism to Modern Art in 36 lessons.
The beginning of the book includes several lessons that focus on gouache paint techniques and then weaves in art history beginning with Monet (see the table of contents here).  Beginning at lesson 12 sculpture techniques are used for several lessons and then the lessons tend to go back and forth between painting and collage/sculpture work.  Overall, I think it is a very good mix and I am amazed by the variety of media that is used in this curriculum.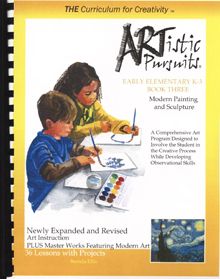 In our house we typically cover an artist a month during our art appreciation time and we tie it in to our history studies (this year we are working our way from the 1800s to the 1900s).  I like to look at many of the artist's works, read a biography, and then try to create some art using techniques/methods that the artist was known for.  Once the Artistic Pusruits book arrived at my house I looked through it to see if there were any suggested lessons on the artists that I had already selected.  About half of the book is focused on Impressionist and Post-Impressionists so there were a variety of lessons to choose from.  Since we typically only study one artist per month I decided to use several of the introductory lessons as is and to use a few of the other lessons as examples of other art from the same time period.  For example, while studying Monet (on my list) we also talked about the trend towards using ordinary people and places as subjects which were covered in lessons pertaining to Renoir and Cassatt.
In my opinion the strength of Artistic Pursuits lies in the use of its varied materials, the insistence in using quality art materials, and the incorporation of art history.  I love that the art history sections offer 1-2 pages of easy reading on the subject and then a picture study with just a few questions to get your child to notice little details about the selected work.  Each lesson is very much open-and-go…only requiring that you pull out the supplies and then clean up afterwards.  Look here and scroll down for sample pages from this book.  In addition, the company makes it easy for you to locate the supplies that you need: you can either order directly from them or, if you just need a few things, by following their link to the Dick Blick online store.
If you are looking to use this curriculum as your sole resource, then there are a few things that you should know.   In the younger years there is a large emphasis on creativity and origniality (as there should be), but no drawing instruction is given in the lower level books, which has frustrated my daughter at times.  Since I have little art experience I have been forced to search out other books that do cover drawing techniques.  Several of the art projects included drawing people which is not an easy task for a child that wants it to look just like a real person.  Also,  I would have liked to see some pronunciation keys (gouache???) and perhaps a little bit more step-by-step instruction.  For example, in the first lesson there is a picture that includes the gouache paint, watercolor paper, and an ebony pencil.  However, the ebony pencil is not listed in the necessary materials and the instructions did not mention that the paint should be used after drawing the subject.  I only knew to do so because I looked carefully at the picture and have used Artistic Pursuits in the past.
Overall, I am quite happy with the Artistic Pursuits curriculum and think that it makes a wonderful supplement for both our art history and art technique lessons.
Price: $47.95

Disclaimer: I received a free copy of this product through the Schoolhouse Review Crew in exchange for my honest review. I was not required to write a positive review nor was I compensated in any other way. All opinions I have expressed are my own or those of my family. I am disclosing this in accordance with the FTC Regulations.