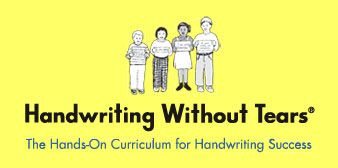 Handwriting Without Tears (HWT) is a handwriting company that strives to teach penmanship to children in an easy and fun way.  To do this the traditional program uses various hands-on materials, such as wood pieces and a chalk slate, to develop correct handwriting skills from the beginning.  (Check out this YouTube video of a little girl learning to write the letter O to see the slate in action.)
HWT has recently released their first app (for both iPad2/3 and Android devices) for preK and K children, named Wet-Dry-Try .  According to the website, the app is a "virtual version of the fun Slate Chalkboard, with personalized audio coaching."  Downloading the app was easy and flawless and we never had an issue with the app crashing while we used it.  In addition, you can create accounts for up to 4 children and the program will save the progress for each.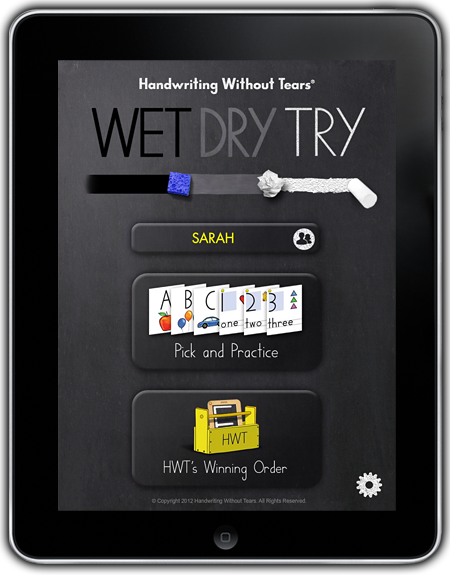 When the app first opens you have a choice between using "Pick and Practice" and "HWT's Winning Order."  Pick and Practice is simply where your child can go to work on any of the uppercase letters or numbers, in any order that they wish.  If you tap HWT's Winning Order option, then your child is guided through the uppercase letters or numbers in an order that the company feels is the easiest way to learn (company research may be found here).  For the letters this means that your child will begin with the letter F and then move on to the letters E, D, and P.  After they have earned at least one star they can move on to the next letter.
Each letter is first drawn automatically, with each stroke explained.  Just like the hands-on material the child is guided by audio instructions to erase the marks with the sponge first.  Then they are told to use the paper towel to dry the marks and finally the child uses a virtual piece of chalk to redraw the letter strokes – hence the name of the app, Wet-Dry-Try.  So for each letter the appropriate strokes are made 3 times.  Multiply that by 3 stars and each letter had to be formed correctly at least 9 times.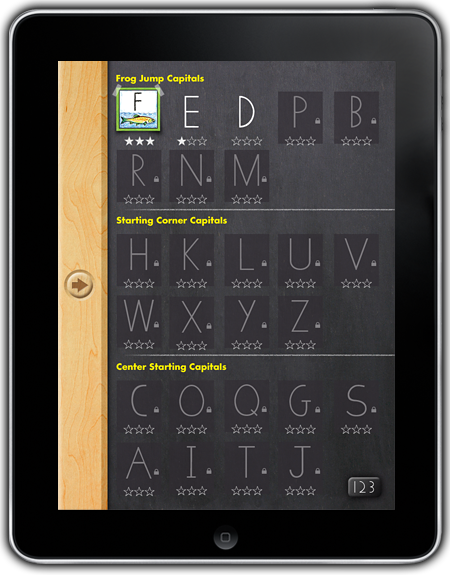 A little bit more about the stars (from the website since it explains this so much better than I am able to): <<Star Level 1 gives the student a permanent visual cue about where to start each stroke. At Star Level 2, the students should be somewhat familiar with where to start each letter, so the sponge, towel, or chalk will flash in the right spot to give a clue about where to go. At Star Level 3, the students should know the formation steps well, having completed the previous Star Levels, so there are "no clues this time.">>
My son (3 years old) really enjoyed using the virtual sponge in particular and I really liked that the program gives immediate feedback when the child is making a stroke mistake.  He is not quite ready to put pencil to paper and I felt like this app gave him a way to practice letter formation without demanding fine motor skills that he doesn't have yet.
And now the downside: there are no lower case letters and there is not much fun built into this app.  Nothing flashy, your child simply moves up in star levels.  For my son that meant that he was happy to work at it for a few minutes, but he always had to be told to do so.  I also needed to stay close by so that he wouldn't immediately close the app and start playing with something else.
This app is certainly not a game and it does a great job of simulating the slate work of the traditional program, but it doesn't have the "fun factor" that your child may expect from an app.
Price: $4.99

Disclaimer: I received a free copy of this product through the Schoolhouse Review Crew in exchange for my honest review. I was not required to write a positive review nor was I compensated in any other way. All opinions I have expressed are my own or those of my family. I am disclosing this in accordance with the FTC Regulations.