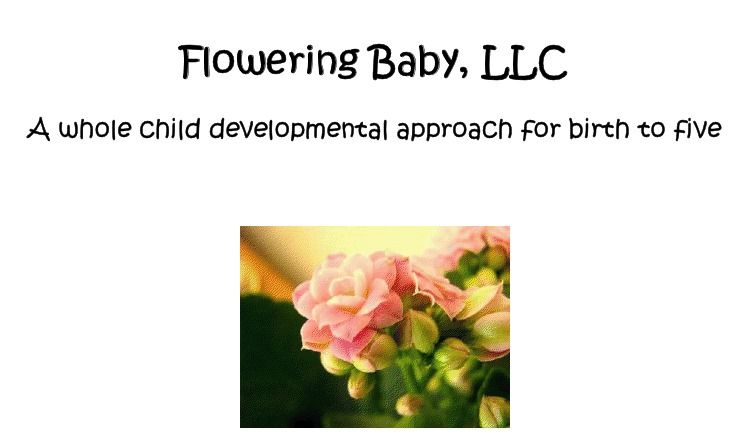 Flowering Baby, LLC is a program that is designed by year (ages 0 to 5) and broken down by month.  I was quite excited when I found out that I would be reviewing the program because I often feel that I am doing less with my son compared to what I did with my daughter.  My son, though, is not very interested in any sort of sit down work and is quite content to play all day long with a few read alouds thrown in here and there.  So I wanted something for him that was fairly simple to plan, did not have much in the way of "seat work," but was still worth the time and effort to implement.
The Flowering Baby curriculum certainly met all of my expectations.  The early years include a monthly guide with activities to fill 20 days.  Starting with volume 4 of the program there are two guides: a monthly core program and 24 theme guides, of which you choose two themes per month to cover.  The program contains suggestions for covering math, language, science, and other preK areas of learning.  Currently the program is offered on CD or as a download.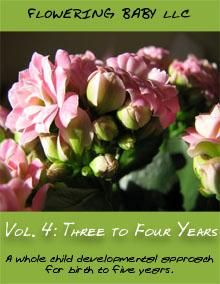 For my son I chose to mostly use the year 3 to 4 program (see a month's sample here), but we did have to tweak a bit since he already knows his letters, shapes, numbers, and basic spanish (since we are a bilingual family).  However, his fine motor skills are fairly average.  After downloading the manuals I went through and printed out the core January lessons as well as the plans for our two themes (gardening and arctic life).  I choose those themes because while it is still winter here in Florida we are also starting our seedlings for spring planting.  I went through the core program first and scheduled the activities for the first half of the month and put all of the suggested books that I could find at our library on reserve.  Then, I looked into the theme guide and choose several books and activities for each and scheduled those for the second half of the month.  By scheduling the core activities first I was sure that we would get to all of the developmental activities for the month and then we would leisurely cover the themes since they are more topical in nature.
My son was happy (most days) to do his "school" and I never felt that the activities were too much for him.  I was surprised when he showed that he could form most of the letters of the alphabet and number, but I didn't always ask him to use pencil and paper for it.  Some days I substituted an iPad handwriting app and other days I had him fill in an outline of a letter with his do-a-dot paint markers.  I completely skipped the spanish suggestions and instead substituted in different materials that I have en espanol (DVDs, online programs, books, and games), but it was a good reminder to include something in our second language.  We also didn't follow the directions for listening to three different types of music artists during the month since we already have a music appreciation program as a family.
He really enjoyed our theme topics and once again this program gave me the subtle nudge to include him in our garden preparations.  We also read quite a bit about arctic life and were able to find several NOVA programs that dovetailed nicely with our readings.  All of the books that were suggested in the program were of high quality, and I was delighted to find the majority of them at our local library and many of them I had read to my daughter when she was young.
Overall, I really liked having the core program as well as the themes.  The themes allowed me to tailor the program to any current interests of his as well as the current season.  And, I think that Flowering Baby is exactly what I need right now for my son: a little bit of structure, reminders to dig out all of the games and other fun stuff, and a whole lot of flexibility thrown in.
Price: $30-38 per year or $132 for all 5 years…for a 10% discount please enter the code Blog10 when ordering from the Flowering Baby website

Disclaimer:   I received a free copy of this product through the Schoolhouse Review Crew in exchange for my honest review. I was not required to write a positive review nor was I compensated in any other way. All opinions I have expressed are my own or those of my family. I am disclosing this in accordance with the FTC Regulations.