We have finished or are close to finishing all of our first grade language arts programs and I thought that I would (try to) sum up everything here.
1.  Writing With Ease Level 1 – We started off very well with this book and it seemed to be quite appropriate for my dd.  However, we forgot about it for a bit when I failed to pull together sources for the narrations and copywork.  I really enjoyed using pieces that we had been reading, but it just became too time consuming.  However, after two/three months of not doing WWE we picked it up again and it just seemed too easy for my dd.  So, I turned to the year end diagnostic test, my dd completed it easily, and I consider WWE to be done for the year.
2.  FLL – This program also seems to be rather simple for my dd and we would cover 2-3 lessons in a day, after skipping many of the noun lessons (there were just too many for us).  It was a nice introduction to grammar though.   I wish that I would have purchased a hard copy though (I have a PDF on my iPad) because I find that if I don't have the book in front of me then I tend to forget all about it during lesson time.
3.  Memoria Press Phonics (Classical Phonics and SRA Phonics 2) – I have been really happy with this program and we are just about at the end of the second grade lesson plans.  Today we finished with contractions and we still need to cover how to make words plural.  Originally we began with Phonics Pathways and did lessons on the whiteboard and while I am still happy with our beginnings, I think that my dd has really benefitted from the extra practice of the SRA workbooks.
4.  Sonlight Readers – My dd finished the first grade readers several months ago and we are halfway through the second grade readers.  We have enjoyed the books that Sonlight chooses, but I do not particularly love their schedule for the second grade readers.  It seems that some more difficult books are scheduled to be read before easier books and many times it breaks up the books into strange (for us) chunks.  Overall, I use Sonlight as a guide and supplement with books from the library, like the Henry and Mudge series.
5.  McGuffey's First Eclectic Reader – We started using this book about three weeks ago and we are already more than halfway finished.  I decided to add this in so that my dd could practice reading cursive handwriting (every third to fourth lesson includes some cursive) and practice reading expressively.  We both enjoy looking at the sweet pictures and I think we could almost consider it to be a mini picture study lesson as well.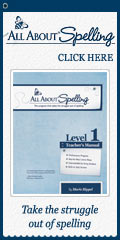 6.  All About Spelling level 1 – We started this program a while ago after my dd was reading CVC words well, but then I let it drop when I noticed that she wasn't ready for dictation.  I know that some say that if your child is not ready for dictation then you can skip that part, but in my opinion the meat of the program is found in the dictation (first single words, then phrases, and finally simple sentences).  When she was ready to pick it up again we found that we generally needed three-four days per lesson.  The first day I would do any teaching necessary for that step and then we would do the first 5 words in the list.  The second day we would finish up the last 5 words on the list and then the third day we would have dictation (I never dictated the 10 words in the spelling list).  Towards the last steps of the program I split the dictation up into two days so the later steps took 4 days for us to finish.  Next year I plan on covering AAS levels 2 and 3.
7.  Wordly Wise 3000 2nd edition vocabulary – This program was a lot of fun for my dd and we took 2 Fridays for each lesson.  However, with only 15 lessons this was finished up quite some time ago.  I think there were a few words that she didn't have a clear definition of, but most words were quite familiar for her.  Next year I plan to cover 2 WW books and I have also been looking at the Vocabulit program.
8.  New American Cursive – My dd did letter Z today and there are only a few practice pages beyond that.  This also was a good fit for her and we ended up taking two days for each letter.  Our cursive lessons took no more than ten minutes and we did cursive 2-3 times a week.  I already have the next book so we shall see how that goes or if I will end up making my own practice pages for her.

This post contains affiliate links so that you can easily see what programs I have used.