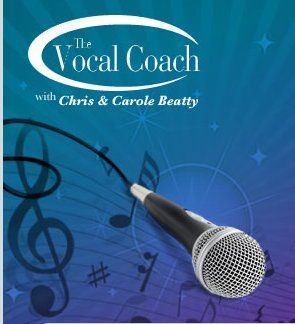 Vocal Coach was founded by Chris and Carol Beatty, and they have taught and coached singers for more than 40 years.  They both clearly have a passion for singing and provide a very confident and clear delivery through the DVDs.
Teaching Kids to Sing is a 3 disc set (2 DVDs and a CD) that is aimed at children ages 5 to 13 and their parents.  The first DVD volume (Building Foundations that Last) covers the topics of posture, breathing, tone, and warm ups.  The second volume (Essential Skills for Growing Voices) covers rhythm, diction, and dynamics.  Each DVD features the Beatty's and a group of children of various ages as they present information and exercises on each topic.  The included CD contains all of the songs presented on the DVDs in two versions: one with the vocals and one without (track only).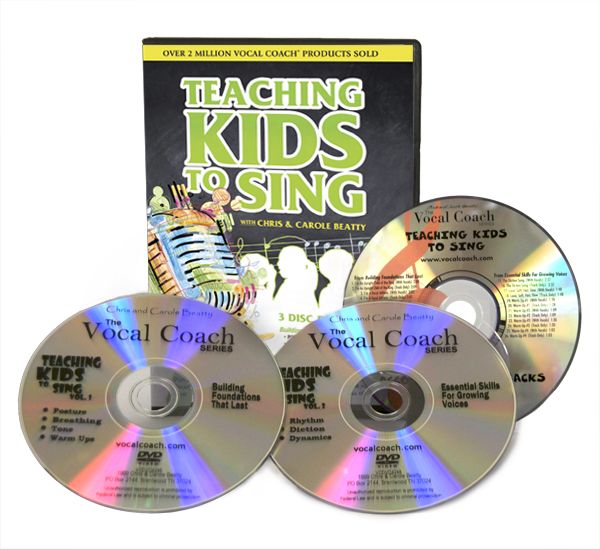 After receiving the product I tried to find some guidance on how to go about teaching my daughter the material.  In the homeschool section of the Vocal Coach website there is a bit in the way of sample schedules and ideas on when to review previous material.  Each Friday (our fun school day), we tried to stick to the suggested schedule of watching one new topic each week (the next on the disc) and also reviewing a previous lesson.  However, in practice, this did not work out so smoothly due to the length and nature of some topics.  For example, the breathing section on the first disc felt quite long and my daughter did not want to watch the entire section again.  I also found that the lessons on the discs didn't really hold my daughter's interest beyond 10 minutes and, at times,  she couldn't quite understand how doing all of the suggested exercises was related to singing.  Perhaps in a few years this product would be more suitable for her since she is at the bottom of the product's age range.
Overall, the presentation is quite professional and the instructors clearly understand the mechanics of singing.  I think that I could have done a better job of implementing and presenting the lessons if there had been a little more handholding.  I would have liked to see a sample schedule written out (we all love to tweak, but it's nice to have something to begin with) and it would have been helpful to have a brief write up addressing the parent that has no prior singing experience as to the importance of each topic and common learning struggles.  Perhaps those that have previous singing experience would find these items unnecessary…I would encourage you to read other TOS Crew members that reviewed this product to see if it would be a good fit for your family.
Price: $44.99

Disclaimer: I received a free copy of the Teaching Kids to Sing set for the purpose of this review; no further compensation was received for my honest opinion.