Last year I was able to review the Kinderbach online piano instruction program for young children and now I am delighted to say that they have an iPad app available.
As mentioned in my previous review of the online program, Kinderbach is a super fun program for teaching piano playing to young children (ages 3-7).  There are a total of 6 levels of instruction and the first 3 levels are available in the iPad app.  Each level contains 10 lessons and the lessons are further broken down so that your child will do a bit each day.  Karri does a wonderful job of slowly introducing the keyboard by using a host of "piano pals"- animals that live on certain keys (eg. Dodi the Donkey is for the D key and Edward the Eagle is for the E key).  Concepts are revisited often enough that I have never found a need to go back and repeat a lesson.  You can see a full scope-and-sequence of the Kinderbach program to view when concepts are introduced.  Furthermore, the switch from a pictorial illustration of the notes to using real sheet music is so effortless in this method.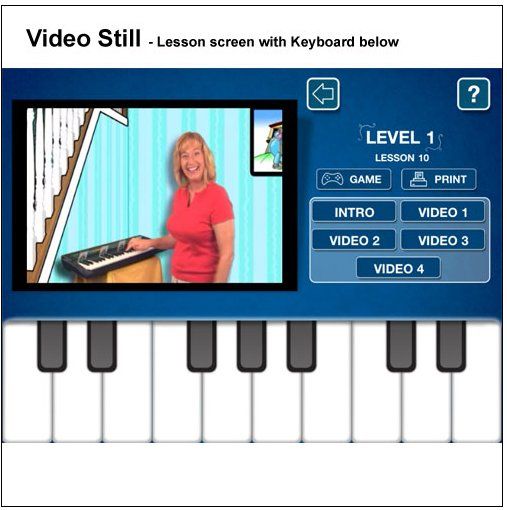 The new iPad app certainly does not disappoint, as it keeps the same format and content that we enjoyed in the online program.  Whenever your child is to practice playing a keyboard there is an onscreen keyboard that is available.  Surprisingly, playing the "keyboard" on the iPad sounds rather nice.  Navigation in the app is intuitive and there was only one minor problem within the app that is currently being fixed.
Overall, my dd loves all the games that are now included and I love how incredibly portable the program can be.  While I don't believe that playing an onscreen keyboard can substitute for a real piano, this app still makes it possible to squeeze in a music lesson when you are on the go.  Or, it can be a great investment to guage the interest of your child before you make arrangements to add a piano to your home.  The only thing that I wish was different would be for it to be impossible to play the on-screen keyboard while there is verbal instruction on the videos – my son loves to "play the piano" on this app no matter what else is being shown.
One word of caution though: the video lessons download as you access them (not when you download the app) so make sure that you have a good Wifi connection or you will have a disappointed child.  Also, the worksheets that go along with the lessons will have to be "air printed" and if your printer does not have that capability then you may need to buy the PDF version in addition.
Price: $26.99 for the classroom version (all 3 levels included)

Disclaimer: I recieved the Kinderbach app for free for the purpose of this review; no further compensation was provided for my honest opinion.