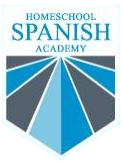 Homeschool Spanish Academy (HSA) is an online solution for learning spanish for young children (age 5) up through adults.  Using Skype, a video chat program, your child (or you!) can be connected to a native spanish speaker for a one-on-one tutoring session.
I was very excited to be selected for this reveiw because I am always on the lookout for new ways to integrate spanish into our studies.  Sadly, it is sometimes difficult to keep up with a second language in a bilingual household, and that has certainly been our experience.  My husband is a native spanish speaker and I know enough to make some general conversation, but I fear that my pronunciation is not good enough and my grasp of grammar insufficient.  Also, we have the problem that many other bilingual families have where your child will only speak in their native language; my daughter insists that English is only for the US and that spanish is only used in Colombia (my husband's native country).
With that background in mind I was a bit hesitant when I signed up for the first class because I was worried that the curriculum would be rather repetitve and would not challenge my daughter.  The problem with most spanish language materials available in the US that are targeted to young children is that they are assuming that there is no prior knowledge of the language and they all begin at an exceedingly simple level and move slowly.  I saw that the HSA preschool curriculum covered greetings, clothing, food, colors, and numbers in the first few weeks  and became even more nervous because I thought that my daughter would not be learning any new vocabulary words.
Before our first lesson we were contacted by telephone and were walked through the process of using the Skype program.  Ron also made sure that our internet was fast enough to support video chat and that we had the latest updates for the program.  After that, we scheduled our lessons using an online scheduling program and simply logged on to Skype a few minutes before our scheduled appointment time.  Only once did I have a problem with the video chat and I am sure that it was on our end as our internet speed just barely meets the minimum that HSA advises.
I cannot even begin to say how wonderful an experience this has been for my daughter.  She loved her tutor, a lady from Guatemala, and truly looked forward to each 30 minute session.  Before each lesson I received a file that included all of the pages that the tutor would use during the session in order to practice more after each lesson.  My fears about the lessons being too slow and repetivite were unfounded because the tutors have the ability to customize the lessons to meet the ability of your child.  At first my daughter was a little bit timid in speaking, but her confidence has greatly improved and she is using more and more spanish every day around the house.  Although we only had six lessons before having to write this review, I have already found some gaps in my daughter's vocabulary that I was unaware of and our family had the opportunity to talk about the different vocabulary that is used in different countries.
Overall, this was a great experience for us and I am certainly signing my daughter up for more lessons and I am contemplating scheduling some tutoring for myself.
Pricing: between $6-9 per session, but visit their website as this depends on what level your child would use and how many lessons per week you would like to schedule

Disclaimer: I received 7 weeks of free tutoring from Homeschool Spanish Academy for the purpose of this review; no further compensation was received for my honest opinion.