The mission of ScienceandMath.com is to kindle the love of science and math, and the world around you.  With that end in mind they have created a DVD (actually 2) containing a total of 23 different science "experiments" that can be done with some common materials that you may (or may not) have lying around you house.  I have the word experiment in quotes because, as the material is presented, they are not experiments…they are demonstrations.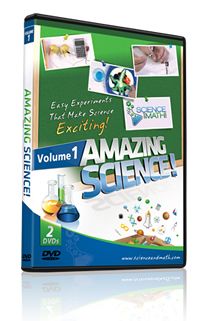 Each DVD track contains a demonstration performed by Jason, who is clearly passionate about science.  Jason is easy to understand and it is simple to follow along with him.  After performing the demo he then gives a very clear explanation as to what happened in in the demo and why.  Most of the "experiments" are dealing with physical science topics and you can see some example videos here.
I wish that there was a write up with the materials needed for each demonstration.  As it is, the materials are only listed at the beginning of each video.  I tried watching the video before showing them to my children, but once they found out that there was a new science video in the house they sat down and watched the first five tracks.  My daughter begged to watch more, but at this point it was dinner time.
We did do a couple of the demos at our house and I actually put my husband in charge of them.  He generally feels awkward helping out in homeschooling endeavors since he is not quite sure how we have been approaching a topic or how much help my daughter may need.  However, he thoroughly enjoyed watching the video with our children and then doing the demo with them afterwards.  The video gave him all of the help he needed to have a successful experience and he even volunteered to do more "experiments" with our children.  Truly a success for our family!
Our daughter's favorite demonstration was the first one where the hydrophobic properties of dish detergent are used to cause milk (with food dye added for ease of viewing) to move.  My toddler son was also enthralled with this feat and my husband had to repeat this one many times.  Pictures of this milk demo are below.
Overall, I was impressed with the quality of the videos and the clarity of the explanations.  I do not think that this can be used as a stand-alone science curriculum, but it could easily be a fun supplement or a quick filler if needed.  Since the title of the DVD set includes the words "Volume 1", I can only hope that another DVD will soon follow. 🙂
Price: $19.95 for a DVD or $17.99 for download

Disclaimer: I received a free copy of the Amazing Science DVD for the purposes of this review; no further compensation was received for my honest opinion.