The Reading to Learn "Little Books" program is often referred to as the I See Sam books.  This program is a sequence of color-coded books that is designed to be used with students on the K to 3.6 reading level range.  There are 8 sets of books and each set contains up to 27 books.
I gave my dd the placement test and was surprised to find that they recommended she begin with set 2.  Once I received the books (sets 2 and 3) though I realized that there was a heavy emphasis on sight words (9 words in set 2 and 15 words in set 3).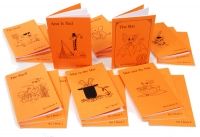 The booklets are very simple overall with illustrations being done in black and white.  My one complaint about the simplicity of these books is that the paper quality is quite low; it is possible to see the illustration on the back side of the paper bleeding through and I am afraid that one will have to be extra careful with these books so that they are not easily damaged.
I did like the built-in review that is included with each book (essentially word lists before the story portion) and the inclusion of the new words that would be seen in the next story.  The one aspect that I truly did not care for was the heavy use of sight words.  However, the use of sight words is certainly not unique to this program.
There are a couple of YouTube clips available that show example lessons being taught (here is one for First Grade), and I also found where you can download the scope and sequence for the entire program.
Overall, my dd enjoyed reading the stories and I did feel that these books were a nice change of pace from what we had been reading.  I don't think that I would base my entire phonics program on these readers, but if your child is hesitant to read then you may want to check these out.
Price: $30 per set
Find out what other TOS Crew Members had to say about the I See Sam books.
I received a free copy of the booklets from sets 2 and 3 for the purposes of this review; no further compensation was received for my honest opinion.