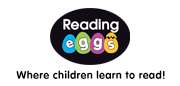 Reading Eggs is a fun online reading program that is aimed at children that are just taking an interest in learning the alphabet all the way up through beginning readers.  There is also a companion site for children that are comfortable reading easy chapter books, but that is not where my dd is at….I just wanted to mention it.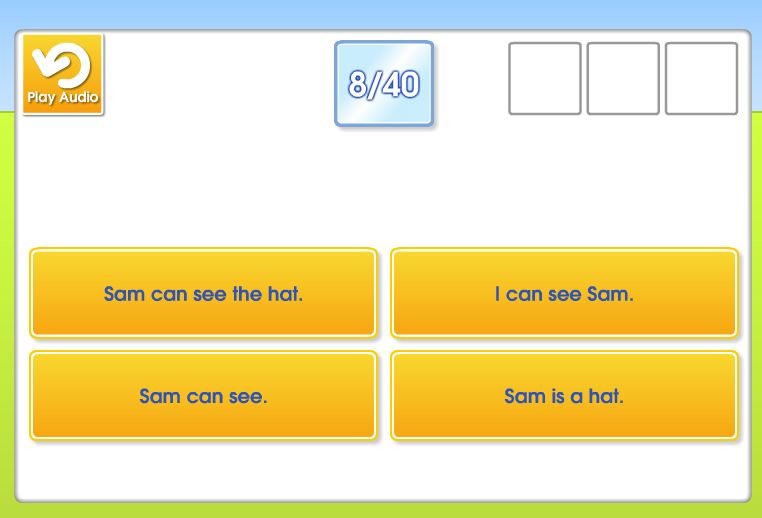 Children that are just learning their alphabet will want to start at the very beginning of the program, but for those that are just starting to blend sounds (or more) then you will want them to take the placement test.  I have to confess that I cannot figure out how the placement test works.  There are 40 questions on the test, but as soon as your child misses three questions (total) then the test is over.  However, the test does not go in order of difficulty.  One question may ask your child to identify a particular letter while the next question is asking them to choose the sentence that was just read.  The test seemed to place my daughter a little low (you can tweak where your child starts), but since I wanted this to be review for her we started where the program recommended.
Once your child is placed in the program, then they begin on the appropriate level map.  There are 12 maps total, each with 10 lessons.  Each lesson also has multiple activities and each activity provides quite a bit of repetition.  Children earn "golden eggs" for the work that they have completed and can use these eggs as currency to buy reward games and decorate their avatar's house.  My daughter wasn't particularly interested in this portion of the program and we only looked at them briefly.
What I don't love about Reading Eggs is how much the so-called "sight words" are used.  Reading Eggs considers 200 words to be sight words (click here for a list) and includes such phonetic words as: am, at, can, man, and, in, yes, not, and him.  Although these words may be high frequency words, I believe that they should first be taught phonetically.  Since I have my daughter working at a slightly lower level in the program than she is in our phonics program it has been a great confidence builder.  And, so far, all of the "sight words" that Reading Eggs has introduced we have already covered phonetically.
As a supplement to our regular reading program, Reading Eggs has been great.  My daughter asks to do "more of the Egg program" just about every day and will willingly complete 1-2 lessons each time if given the opportunity.
Reading Eggs offers a free trial and if you look around you may be able to find a promo code that will extend the trial period for even longer.
Price: monthly subscription is $9.95, 6 month subscription is $49.95, and a 12 month subscription is $75
I recived a free trial of the online reading program Reading Eggs for the purpose of this review; no further compensation was received for my honest opinion.