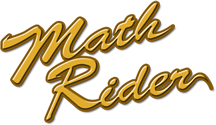 MathRider is a math game for kids that takes the place of timed math drills for memorizing math facts (addition, subtraction, multiplication, and division).  The game is aimed at children from ages 6 to 12 who have (at least) a good grasp of addition.  Although my dd is younger than the recommended age range, we have been working on our math facts (addition up to 10) and I thought that she would enjoy MathRider.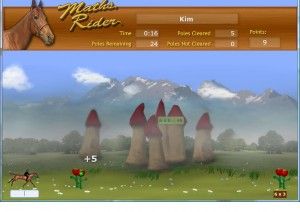 The introductory storyline is as follows.  At the beginning of the game you are informed that you must go on a quest to find a rare flower to cure your mother's fever.  In the land that you must travel, you will have to ride your horse and answer math questions.  As you answer questions correctly you earn points and advance upon the progress map, until you finally complete your quest.
Since we have been working mainly on addition, that is the only portion of the game that I have spent a significant amount of time with, but I've read that the game is essentially the same no matter which operation is being used. Downloading the game was very easy and so was setting up my daughter's account.  In the numerous times that we started up the game, it only "froze" once and after closing and reopening the program everything was fine.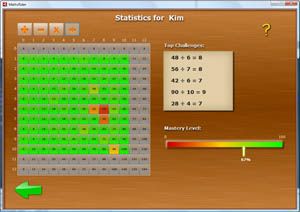 The best part about MathRider is the statistics section of the program.  It is here that you can see how your child is doing with their math facts.  Each combination of numbers that your child has seen during the quest is color-coded for the level of mastery that your child has shown with it and you can click on each individual combination for more information.  In addition, the top challenging problems for your child are listed on the right-hand side, next to the combination grid.
My daughter enjoyed the story and was excited to go out on a quest.  Unfortunately, the pace for entering in answers is a bit too fast for my dd and I had to sit at the computer with her so that we could enter the numbers quickly enough.  There were many times that she would be inputting the answer when the program supplied the answer.  Being unable to do this game herself, she became easily frustrated with it and simply lost interest.  However, this is most likely a product of her age and when she gets older then I am guessing that she would do just fine.
There is a 30 day money-back guarantee on the purchase of this program.  And, for those with larger families, it is nice to know that up to 8 players can play on a single license!
Price: $47 (on sale for $37 until Feb. 15)
I received a free trial of MathRider for the purpose of this review; no further compensation was received in exchange for my honest opinion.