I am so lucky to be able to review another Maestro Classics product.  Our family thinks that these CDs are a wonderful way to pass the time while we are in the car.  My 2 year old son has listened to Peter and the Wolf enough times to hum along with the majority of the song.  Today, though, I am writing about Swan Lake which is another title in a list of wonderful music that Maestro Classics offers.
Quick plot line of the story: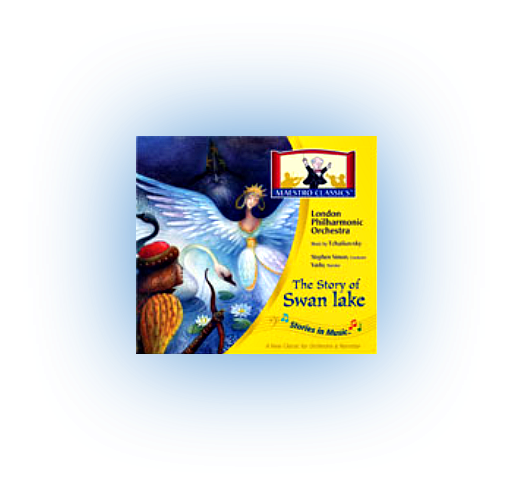 Swan Lake is the story of a prince that is being forced to marry, but has not fallen in love with anyone yet.  On the night of a ball he slips out the back of the palace and encounters a swan princess.  This princess has been put under a spell by an evil magician and is only human for a few hours each night. 
The prince and princess quickly fall in love and she promises to meet him at midnight at the ball.  The magician is onto them however and disguises his daughter as the swan princess.  Our prince cannot tell the difference and is convinced that the imposter is the true princess.  The real princess enters the ball just in time to hear the prince proclaim his love to the imposter.
Upon hearing the prince's love for the magician's daughter, the swan princess runs away and throws herself off of a cliff.  The prince makes a mad dash after her, but is too late to save her.  Instead of living the rest of his life with the imposter, the prince decides to join the swan princess in death.
I love the music for Swan Lake, but I cannot say that this is my favorite story.  An easily fooled prince and (in my mind) and irrational swan princess make the tale difficult to enjoy.  However, Maestro Classics does a great job of narrating the story and it is very easy to follow.
Other tracks on the CD include: a biography of Tchaikovsky, a speed metal version of Swan Lake (listen to the sample on their website even if you don't think you will buy this CD…it is just fantastic), and some information on the music.  Overall, Maestro Classics offers a great product that makes it easy to get your music appreciation in while driving around in your car.
The only negative that I had about this CD is that it does not include a track with just the music (sans narration).  Instead, there is a reminder that it can be found on iTunes.
Price: $16.98 for a CD and $9.98 for an MP3 download