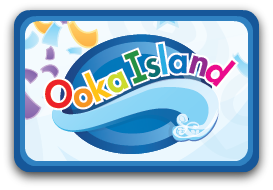 Ooka Island is an online reading adventure that is aimed at children from preschool to grade 2.  It really is quite difficult to explain what exactly the online environment looks like and it would be best to check out the YouTube video.
Downloading the program took us a long time since it is about 2 GB.  We have the mid-range DSL service from AT&T and it took about an hour to download the entire program.  Installing the software also took quite a bit of time and at one point I was concerned that the installation process had crashed.  We also had problems with the program crashing every now and then on us while my daughter was playing.  However, this is a very new program that has just come off of Beta testing and I have been told that these bugs are being worked on.
My dd really enjoyed the game aspect of the program and was not bothered by the repetitive nature (surprising to me).  Whenever we logged on to play she would happily play for more than 20 minutes at a time.  I needed to explain the games to her once for her to understand how to play; on a few occasions I wasn't quite sure how to play one of the games, but we quickly figured it out after clicking around for just a bit.
I have to say that I don't really understand the order in which concepts were introduced.  For example, my daughter was first taught to identify the letter "m" and then the letter "s".  That certainly made sense to me.   But then she was taught that "oo" makes the sound heard in the word "boot."  That didn't make sense to me.  The books that your child reads at the end of each lesson also appear to rely quite a bit on sight words.
Another little thing that drove me crazy is how often your child is praised.  I know that it is supposed to be a good thing, but I believe that praise should be in moderation so that it has more of an impact.  It felt like I heard, "great job" every minute or so.

Overall, though this might be a good fit for your child if they love learning through games and can focus their attention for about 20 minutes at a time.  Check out the free 14-day trial and if interested in purchasing then make sure you use the promo code (LAUNCHSPECIAL30) to save 30%.
Price: $12.95/month, but you should really check out the pricing page for all of the different options
I received a free trial subscription to Ooka Island for the purpose of this review; no further compensation was received for my honest opinion.