Memoria Press is a great company to get to know if you are even remotely interested in classical education.  MP is a family-run publishing company that was founded in 1994 with the express intent "to help promote and transmit the classical heritage of the Christian West through an emphasis on the liberal arts and the great works of the Western tradition."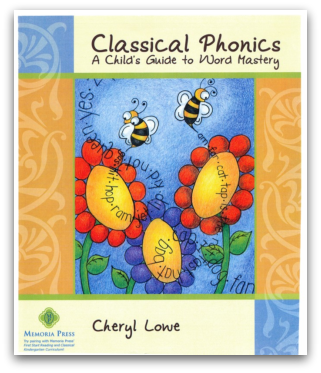 Memoria Press has a phonics program entitled (what else?) Classical Phonics and supplemental books entitled First Start Reading.  Classical Phonics is a slim book (based on Florence Akin's Word Mastery) that contains all of the phonics rules along with word lists for your children to master. According to the Memoria Press website, their program follows a more traditional approach to phonics that combines a vowel-consonant approach with word families.
Now I get to enlighten you about a somewhat embarassing thing that happened to me.  When our box of review materials arrived, my dd took out the Classical Phonics book and squirreled it away in her room.  She says that she took it because she liked the pictures of the bees on the front and there were lots of words inside to look at.  So, for most of the review period I didn't even know about the existence of this book and you know what….we managed just fine with the First Start Reading books alone.  I don't think that I would suggest buying just the First Start Reading books if you have never worked with a phonics program before.  However, if you understand the basics of phonics and have an idea about how you would like to teach it, then you may be fine without the Classical Phonics book.
So, back to my review.  First Start Reading is a 3 book program that combines reading and manuscript printing in the teaching of phonics.  Book A covers basic cvc words (click here for a sample page) and we decided to begin working in Book B (sample pages are here). I was surprised by how much my dd enjoys the dictation portion of the program – many times she would ask to do more.  I had always hesitated to use dictation exercises with the spelling program that we use, but she can clearly handle it and actually enjoys dictation.
We did not particularly care for the pages where there was only room to trace the words that my dd was supposed to read.  She doesn't seem to enjoy tracing and was frustrated that there was no space for her to write the words on her own.  Some days I used letter tiles on our magnetic white board to take the place of these pages.  I also found the Teacher's Guide to be an essential component for us, as only the guide contains the dictation words.
All books are in black and white with a standard manuscript font.
Prices:
Classical Phonics: $14.95
First Start Reading: $29.95 for books A, B, C, and Teacher's Guide; $22.00 without the guide