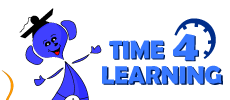 Time 4 Learning is an online program for children of ages preK through 8th grade.  The emphasis of the program is math and language arts, but there are also some bonus lessons for science and social studies.
I received a free month trial to test out the first grade program.  This trial coincided with my trip to Colombia which was great.  I hadn't planned on bringing along many of our homeschooling materials and I was thrilled to be able to use this as our main course of study while abroad.
Since the program is online there is nothing to download; just head on over to Time4Learning.com and enter in your account information.  I had to click through 2 more "Enter Here" links (with subsequent pop-up windows) until finally arriving at the home screen.  For first grade there are 5 choices: LA Extensions, Language Arts, Math, Science, and Social Studies.
My dd was immediately attracted to the social studies and science icons and throughout the entire trial period she spent the most time in these areas.  By the end of the month we had done almost all of the lessons in the social studies section and about one-third of the science lessons and we hadn't even logged on every day.  Most lessons are fairly quick and at the end of each lesson there is a 10 question quiz (this is one part that I kept wishing that I could disable-I did not want to require that the quiz be taken before the lesson was considered completed).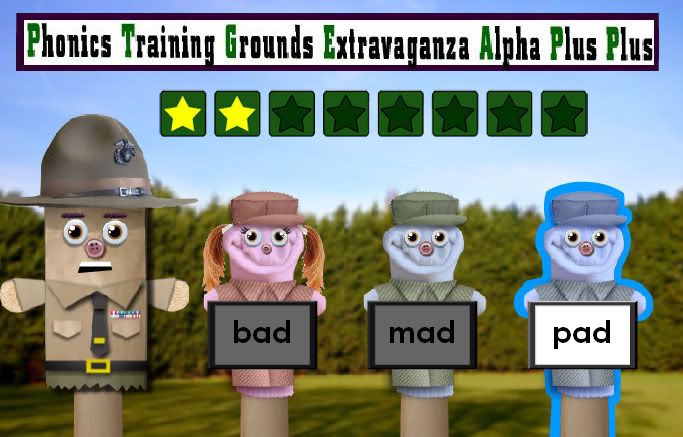 She also enjoyed the Language Arts (phonics) lessons and was thrilled with the silly games that were used to teach basic letter recognition.  I noticed that their progam does teach sight words so please preview lessons if that is something that concerns you.  Happily, the sight words that we encountered my dd already knew how to sound out.
As a parent, you can change the minimum amount of time (0-59 minutes) that your child must complete before being able to go to the playground area.  And, you can also set the maximum amount of time that your child can be in the playground area.  There is also a place where you can track your child's progress and print out progress reports if desired.  You can also designate which lessons you want your child to complete each day.  Strangely, these areas are all accessed through the student logon; the parent logon is simply for keeping track of the number of students registered, what level each student is registered for, and payment information.
I found that the Time 4 Learning website and program is a bit too scattered for me and I definitely suggest that you read their Getting Started Guide before starting out.
Sadly, Time 4 Learning is almost entirely Flash based, so it will not run on any iGadgets.  It would have been truly wonderful if this had been iPad compatible.  I think that this program would be great for homeschooling families when it is difficult to put together your own lessons or access your materials (e.g. new baby in the house, traveling for an extended period of time, summer lessons).
Pros: easy to access if you have a computer and internet connection, entertaining
Cons: expense, limited number of science and social studies lessons
Price: $19.95/month for the first child and $14.95/month for each additional child
I received a free month trial for the purpose of writing this review; no further compensation was received for my honest opinion.