The first review for TOS Crew this year is a travel trivia game entitled Wise Alec:Nature Nuts from Griddly Games. The game includes 1 mulitcolored dice and 4 decks of cards; this trivia game is targeted for 2-4 players that are aged 8 years and up.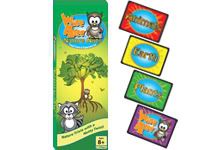 When I first saw the packaging for this game (reminds me of a slim pencil case) I certainly agreed that it would be easy to travel with – a big bonus for our family. I easily slipped this game into my purse and we took it on our trip to Colombia.
The rules are very simple (click here if you would like to see a video presentation of how to play). During each player's turn they roll the dice and the color that it lands on is the color card that is drawn for them (except if you roll the color blue, then you get to pick your topic). Then the player must choose whether they want a novice or expert question read from the card. If the question is answered correctly, then the player gets the points for their chosen level. You can play to whichever point level you prefer, depending on how much time you have available for the game.
My dd is certainly much younger than age 8, but I found that she could answer several of the novice questions. Generally, for other games, we put my dd on a team with either my husband or me, but with this game she was able to play on her own. Sometimes we gave her hints, but we mostly disregarded the points part of the game and had fun trying to answer the trivia questions.
Pros: travel sized and fun trivia questions
Cons: I can see the cards getting easily lost in the future
Price: $14.99 (check the Griddly Games website for retail locations)
Find out what other TOS reviewers thought of Griddly Games.
I received a free Nature Nuts game for the purpose of this review; no other compensation was given for my honest opinion.