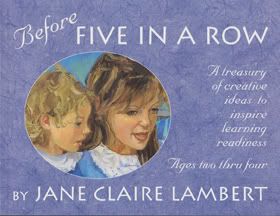 The subtitle on the cover page of the book Before Five in a Row by Jane Claire Lambert pretty much sums up what you will find inside: a treasury of creative ideas to inspire learning readiness.  The book is aimed at children from ages 2 to 4 and inside you will find ideas for activities to accompany the reading of 25 different classic stories.
Before Five in a Row (BFIAR) is a very gentle introduction to learning and is not meant to be an in-depth preschool curriculum.  I actually tried out these activities a few years ago with my dd when she was 3 (?) at the time.  We found that it wasn't the perfect fit for us then because my dd was already too old for many of the stories (she is a very verbal child).  However, this time around, I was planning on using it with my ds (almost 2) since he is not near as verbally advanced as my dd was and we hadn't yet read any of the stories in BFIAR…and of course my dd didn't want to be left out.
For this review I chose 3 titles to read with my ds and several of the suggested activities to go along with them.  The first story that we read was Ask Mr. Bear.  After reading the story for the first time we went out on a nature walk in the woods behind our house as was suggested.  I also found some library books about Florida black bears and we talked about where bears live, what they eat, and what to do if we ever see a bear in the woods.  We also spent a lot of time perfecting our bear hugs!
The second title we chose was Goodnight Moon.  I picked this title mainly because there was an art focus in the activity section for Ask Mr. Bear that had the child compare the illustrations from the two books.  We also talked about the animals that were in the pictures and we recited Hey Diddle Diddle (a picture of which is found in one of the illustrations) many times.  There was also a suggestion to talk about all of the shapes that are present in the illustrations and I had my ds point to all of the circles that he found.
The last title that we read together was Angus Lost since my ds is always pointing out dogs every where that we go.  After reading the story we talked about what it takes to care for dogs (this was easy since we have one) and how we should approach dogs that we do not know.  My dd also became quite interested in the idea of a milkman and horse-drawn carts.
Overall, I have to say that this time around BFIAR was a much better fit for my family.  My ds is not overly patient and cannot sit still for long periods of time so the bite-sized activities that are suggested are just perfect for him.  I also loved that I was able to include my dd every now and then when she became interested in a particular aspect of a story that we had just read.  For our family we have found that the younger end of the age range is a much better fit.
If you are looking for some gentle prompts that can provide a more in-depth literature experience with your little ones, then you should definitely pick up BFIAR.
Price: $35, available at Rainbow Resource
The following titles comprise the book list for BFIAR:
Blueberries for Sal

Goodnight Moon
Runaway Bunny

Caps for Sale

The Snowy Day

Prayer for a Child

Corduroy

The Big Green Pocketbook
The Carrot Seed 

Angus Lost

Katy No-Pocket 

I Am an Artist

Play With Me

The Little Rabbit

Ask Mr. Bear 

Jesse Bear What Will You Wear?

We're Going on a Bear Hunt

If Jesus Came to My House

ABC Bunny

OOP books:
Yellow Ball

My Blue Boat

Quiet Way Home

Red Carpet

Jenny's Surprise Summer
 I received a free copy of Before Five in a Row for the purpose of writing this review; no further compensation was received for my honest opinion.