AIMS is a nonprofit foundation that was started to help teachers integrate math and science concepts (and have a better understanding about these concepts themselves).  AIMS has been making hands-on learning activities for 30 years. According to their website, AIMS promises to "make learning engaging, make affordable activities where the materials are readily available, and make their activities easy to use without compromising conceptual development of effectiveness."  The AIMS online store has many different activity books, but for the purpose of this review I received the one entitled Electrical Connections.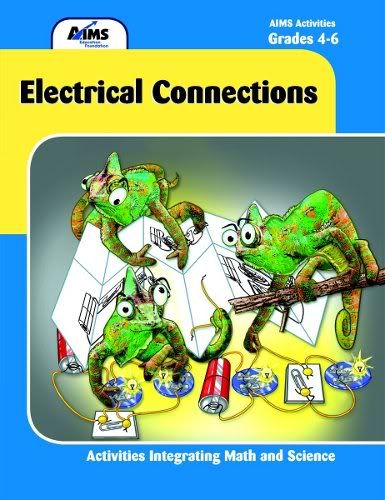 Electircal Connections is aimed at children in grades 4-6.  As many of you realize, my dd is no where near that age group, but I was fairly confident that she would benefit immensely from the book.  One of the most wonderful aspects of the AIMS website is their extensive preview sections (click here to access the preview pages for Electrical Connections).  My dd and I have been talking for some time about static electricity, lightning, and we have made some simple circuits with a fairly popular circuitry kit.  When the book arrived she was very excited to be able to do some electricity experiments during science time.
There are 4 sections to this book and they include activities about static electricity (9 lessons), circuits (15 lessons), electromagnetism (6 lessons), and the history of electricity (3 lessons).  Within each section there are also some mini-books that succintly summarize the key points of a section.  All of these pages can also be found on the accompanying CD which makes it easy to print out the directions and sheets for recording observations (you are allowed to make up to 200 copies of each page).
The AIMS books have certainly been written for classroom teachers as you will see with the directions (written for groups) and the learning standards that each activity targets.  I found that the instructions were easily adaptable for a homeschool environment and I really liked the guided questions that were included with the lessons.  Each lesson also had some extension activity suggestions if the child wants to continue pursuing the topic.  Overall, I think that this book would make a great addition for anyone looking to put together a unit study on electricity or for ideas for physics experiments.
Materials needed for the activities in this book include: pencils, crayons, paper clips, tape, glue sticks, scissors, hole punch, stapler, index cards, cardboard, plastic wrap, aluminum foil, paper towels, steel wool, baby food jars, yarn, thread, clay, balloons, buttons, D cells, analog clock, nails, metal washers, bolts, salt, ring magnets, wire, light bulbs, directional compass, battery holders, and bulb holders.
Price: $24.95 at the AIMS website
I recieved a free copy of Electrical Connections for the purpose of this review; I have received no further compensation for providing my honest opinion.